Jorge Villavicencio Grossmann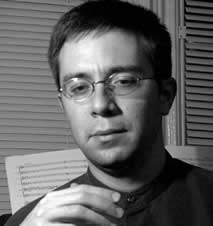 Composer Jorge Villavicencio Grossmann holds degrees in violin performance from Faculdade Santa Marcelina (São Paulo, Brazil) and a master's degree in composition from Florida International University. He is currently a doctoral candidate at Boston University. Jorge Grossmann has studied with Paulo Maron in Brazil; with Fredrick Kaufman, Lukas Foss, and John Harbison in the U.S. He has participated in festivals and conferences in the U.S. and abroad, including Mei Festival 1999 (Netherlands), New Music Miami (1999-2000), June in Buffalo 2000, Wellesley Composers Conference 2002, Domaine Forget Summer Academy 2003 (Quebec), among others.
Among his awards, Jorge has received a Charles Ives Scholarship from the American Academy of Arts and Letters, a commission from "Vitae, Associação de Apoio à Cultura" for his String Quartet No. 2, and awards from Faculdade Santa Marcelina and Florida International University. Residencies include: Voix Nouvelles of the Fondation Royaumont (2004) and the Atlantic Center for the Arts. Jorge Grossmann is currently adjunct professor at Middlesex Community College, in Massachusetts.
Born in Peru in 1973, Jorge Grossmann moved to Brazil in 1989 and to the U.S. in 1998.
These pieces by Jorge had their premieres during recent Just in Time seasons:
De Profundis, for solo cello
Shadow of the Voices, for soprano and string quartet
For more information and MP3 excerpts, visit the composer's website shadowofthevoices.com.