Pamela J. Marshall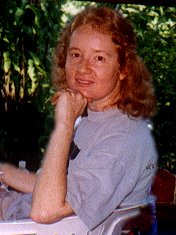 Pamela J. Marshall studied at Eastman and Yale and has been a fellow at the MacDowell Colony. She has written for chamber ensembles, synthesizers, mandolin, and orchestra, including commissions from Marilynn Mair and her mandolin octet Enigmatica, the Renee Fisher Foundation piano competition, Axiom Duo, Trio Arundel, mandolinist Neil Gladd, and DanceArt. "Through the Mist" for orchestra was played in New York at the Women's Philharmonic Carreer symposium in 1999. She has done two Christmas arrangements for orchestra - the latest is being premiered in 2003 by the Concord Orchestra.
Her mandolin music is recorded on a Plucked String CD and chamber music is recorded on the Clique Track label. Her company, Spindrift Music, publishes her music (on the Web at www.spindrift.com).
On Just in Time concerts, she has presented a variety of chamber music, which has been performed by Luis Leguía, the Axiom Duo, Natalo Paella, and members Karen Sauer, Valerie Anastasio, Dan Duncan, and others. The titles below with links are available from Spindrift. Inquire if you are interested in some of the other titles!
• Vocal

Remember the Old Songs
excerpts from opera-in-progress Melete's Quest


• Strings

Elusive Sleep for cello and piano
Pascal's Theorems for cello and doublebass
Triptoe Suite for intermediate violinist and piano


• Brass

Wanderer for brass quintet
Jazz-Inflected Etudes for solo trumpet
From the Rainforest for 3 horns and recorded sound


• Keyboard

Suite for harpsichord or piano
Daydream for piano
Stomp for piano

Pamela plays horn in the Concord Orchestra, enjoys birdwatching, and wants to become a better windsurfer by is taking windsurfing lessons this winter in Bonaire.
For more information about her music, visit Spindrift on the web. She's also published a trip report on birdwatching in Trinidad and a Music Thesaurus.